O vídeo também mostra a música final"Mirai=Teleport"de Nenne na sexta. O vídeo mostra a música tema de encerramento do anime "Mirai=Teleport" de Nenne, e revela a data de estreia do anime em 3 de julho na AT-X, Tokyo MX e BS NTV, e sua data de estreia em 6 de julho na Kansai TV. AT-X vai estrear o anime em 3 de julho às 21h30. (8h30 EDT).
©toufu・芳文社/Lv1魔王とワンルーム勇者製作委員会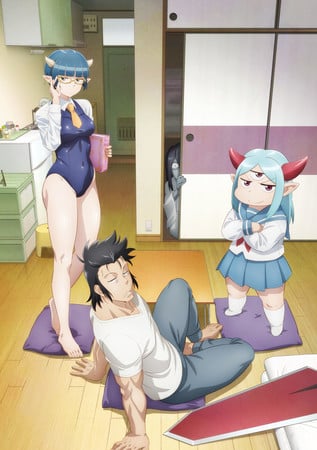 ©toufu・芳文社/Lv1魔王とワンルーム勇者製作委員会
HIDIVE irá transmitir o anime assim que for ao ar no Japão.
Keisuke Inoue (My Next Life as a Villainess: All Routes Lead to Doom! ambas as temporadas, Ao-chan Can't Study!) está dirigindo o anime nos estúdios SILVER LINK e BLADE. Toshiya Ono (Land of the Lustrous, The Promised Neverland, Shadows House) está supervisionando os roteiros da série e Yoshihiro Watanabe (Iwa-Kakeru!-Sport Climbing Girls-, The Testament of Sister New Devil) está projetando os personagens. R.O.N (FLCL Alternative, The Slime Diaries, Kuroko's Basketball) está compondo a música.
Os membros adicionais da equipe incluem:
As estrelas do anime:
MADKID se apresentará a música tema de abertura do show"One Room Adventure", e Nenne fará a música tema de encerramento"Mirai=Teleport."
Fonte: Level 1 Demon Lord e One Room Hero animes site