Vídeos de letras para FFF, músicas dos ídolos de Yurayura Sisters também foram transmitidos
A equipe para o anime do escritor Rakuda e do ilustrador Buriki's Shine A série de light novels post postou o segundo vídeo promocional do anime no domingo. O vídeo anuncia um novo membro do elenco e a estreia do anime em 12 de julho.
Atsumi Tanezaki está dublando o gerente da unidade idol Yurayura Sisters, Eiko Kikuchi: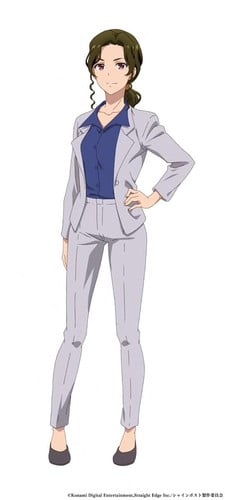 O anime vai estrear no intervalo de tempo AnichU no canal NTV em 12 de julho às 25h29 (efetivamente, 13 de julho às 1h29)..
A equipe também postou dois lyric videos para a música"First Step"da unidade idol FFF e a música"Yurayura Wonderful World"da unidade idol Yurayura Sisters.
Reproduzindo a história grupo ídolo rival HY:RAIN são:
Os outros membros do elenco incluem:
O anime é parte do projeto de ídolo multimídia Shine Post da Konami Digital Entertainment e Straight Edge, que também inclui um jogo por Akihiro Ishihara (Guilty Gear, Love Plus), um mangá na revista Monthly Comic Alive da Kadokawa, e shows.
Kei Oikawa (Uma Musume Pretty Derby) está dirigindo o anime no Studio KAI. SPP é responsável pelos roteiros da série. Tatsuto Higuchi (Revue Starlight) está escrevendo os roteiros com Rakuda, que também é creditado como o autor da série original e por conceber a visão de mundo. Yoshihiro Nagata (Macross Delta) está projetando os personagens de anime baseados nos designs de personagens originais de Buriki. Yōhei Kisara (projeto de ídolos Love Live! School) do Stray Cats está produzindo a música.
Rakuda e Buriki lançaram o Shine Post: Nee Shitteta? Watashi o Zettai Idol ni Suru Tame no, Goku Futsū de Atarimae na, to Bikkiri no Mahou (Shine Post: Did You Know? The Most Ordinary, Natural, and Unique Magic to Make Me an Absolute Idol) light novel em 8 de outubro. dois colaboraram anteriormente na série de light novels Ore wo Suki na no wa Omae Dake ka yo, que também inspirou um anime de televisão.
Fontes: site do anime Shine Post, Comic Natalie