O canal exibe documentário de sexta a sábado
© Bronson e Tetsua Hara/NSP 1983 O site oficial da NHK World está listando um documentário sobre a franquia de anime Fist of the North Star intitulado Another Story: How Fist of the North Star Came to Be. O canal vai ao ar o documentário na sexta-feira, às 23h10. EST e no sábado às 6h10, 11h10 e 18h10. HUSA.
O canal descreve o documentário:
"Fist of the North Star"é o padrão ouro do mangá de ação e continua popular por mais de 30 anos desde que terminou. Esta é a história dramática de como três homens se uniram para criar uma obra-prima.
A série de televisão Fist of the North Star durou duas temporadas de 1984 a 1988 e teve 152 episódios. A série também ganhou um filme em 1986 e um OVA em 2003. A franquia inspirou um filme live-action em 1995.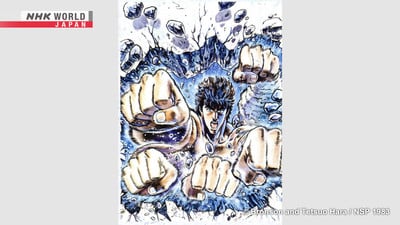 Buronson e Tetsuo Hara publicaram o mangá Fist of the North Star original de 1983 a 1988 na Shueisha's Shonen Jump revista.
Fonte: site